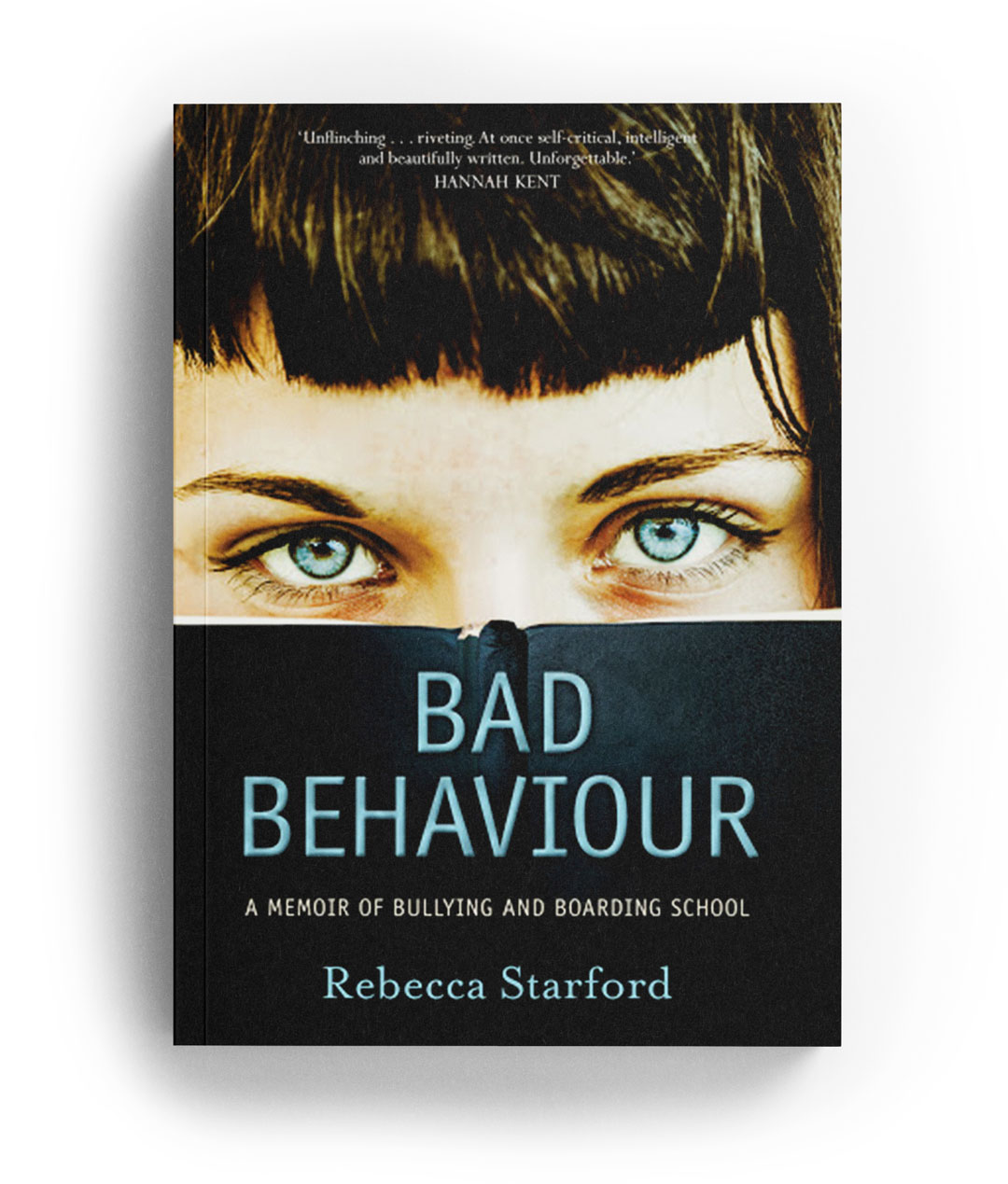 BAD BEHAVIOUR
It was supposed to be a place where teenagers would learn resilience, confidence and independence, where long hikes and runs in the bush would make their bodies strong and foster a connection with the natural world. Living in bare wooden huts, cut off from the outside world, the students would experience a very different kind of schooling, one intended to have a strong influence over the kind of adults they would eventually become.

Fourteen-year-old Rebecca Starford spent a year at this school in the bush. In her boarding house sixteen girls were left largely unsupervised, a combination of the worst behaved students and some of the most socially vulnerable. As everyone tried to fit in and cope with their feelings of isolation and homesickness, Rebecca found herself joining ranks with the powerful girls, becoming both a participant–and later a victim– of various forms of bullying and aggression.

Bad Behaviour tells the story of that year, a time of friendship and joy, but also of shame and fear. It explores how those crucial experiences affected Rebecca as an adult and shaped her future relationships, and asks courageous questions about the nature of female friendship.

Moving, wise and painfully honest, this extraordinary memoir shows how bad behaviour from childhood, in all its forms, can be so often and so easily repeated throughout our adult lives.
PRAISE
'An unflinching examination of the ambivalence, brutality and reckless need for acknowledgement that lies at the heart of so many social cliques and female relationships. Rebecca Starford's memoir of her teenage years at an isolated boarding campus in the Australian bush—and the insidious effect her experiences there had upon the formation of her adult self—is absolutely riveting. At once self-critical, intelligent and beautifully written, Bad Behaviour is unforgettable.'
— Hannah Kent, author of Burial Rites and The Good People
'Bad Behaviour is a compelling coming of age story told with honesty and warmth. I was moved by Starford's resilience and insight, simultaneously capturing both the power and powerlessness of being fourteen.'
— Alice Pung, author of Unpolished Gem and Laurinda
'Bad Behaviour is remarkable. Part Mean Girls, part Lord of the Flies, yet set in the uncannily familiar Australian terrain of class privilege and bush brutality. With savage urgency, Starford catapults us back to a time of youthful awakening and confusion.  Like bystanders at a train wreck, we wonder how the rails could have become so warped and why nobody thought to apply the brakes sooner. Painful, poignant and always probing, Bad Behaviour is a cautionary tale well told.'
— Clare Wright, author of The Forgotten Rebels of Eureka, winner of the 2014 Stella Prize
'Rebecca Starford doesn't just nail the toxicity of high school, but captures a viciousness in teenagers so breathtaking it's worthy of Attenborough. Every pages of this book adds to a sense of dread that tightens around the reader's neck like a knot. Mandatory reading for every teenage girl.'
— Benjamin Law, bestselling author of The Family Law
'From the moment you pick it up, it is hard to let this book go.'
— Suzanne Leal, The Australian
'Engrossing… a tale of poignant self-doubt told with grace and dignity. It is a model of moving on not just from the bullies we meet but also from the ways in which we bully ourselves.'
— Michael McGirr, Age, SMH, Canberra Times
'Bad Behaviour is a vivid journey into the dark corner where a fourteen-year-old loses her girlhood and has to start becoming a woman. It is also a courageous, fiercely honest assessment of the guilt that we carry from our actions as teenagers; a reckoning of how that guilt accrues through our later lives. If you thought Lord of the Flies could only happen among boys, read this book.'
— Malcolm Knox, award-winning author of The Life
'Bad Behaviour is not just a beautiful and powerful memoir of a year spent in an Australian boarding school, it is a deftly written psychological study of horrific bullying and all the fear, self-loathing, insecurity, isolation and, yes, courage and desperate camaraderie that often accompanies it. A cautionary tale for parents who love their children so much that they would send them away.'
— David Leser, acclaimed author of To Begin to Know
'A raw and disquieting coming of age story, vividly told.'
— Jane Gleeson-White, award-winning author of Double Entry and Six Capitals
'As addictive as Knausgaard. Which is a big call—but I'm making it!'
— Martin Shaw, Readings Bookstore
'A gripping memoir…[an] astute and frightening rendering of female adolescence.'
—The Saturday Paper